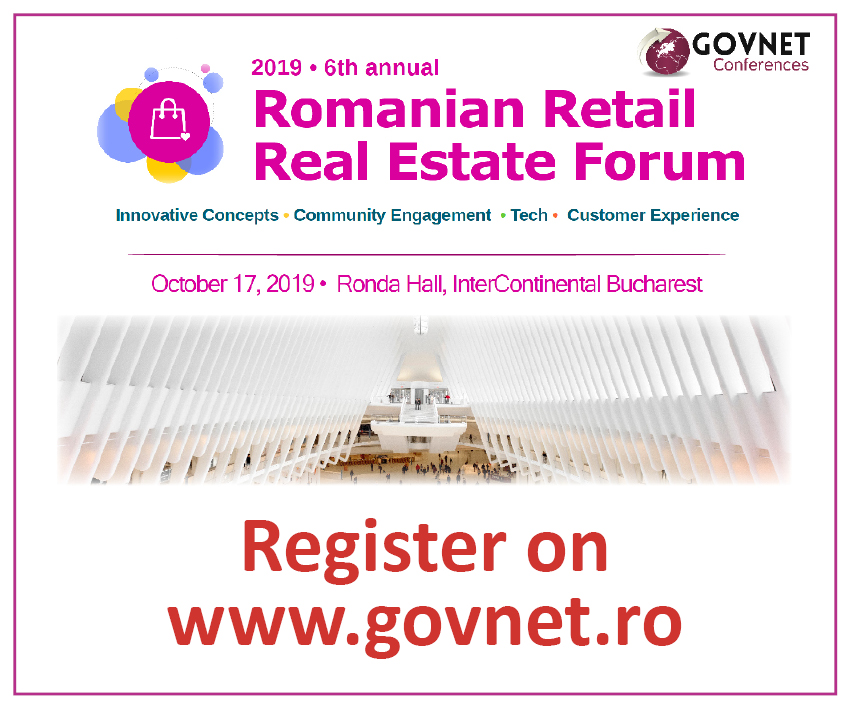 17 Octombrie • Hotel InterContinental • Sala Fortuna
Govnet Conferences organizează joi, 17 Octombrie, cea de-a șasea ediție a Romanian Real Estate Forum 2019 la Hotel InterContinental București, Sala Fortuna, etaj 21.
Ediția din 2019 a Romanian Retail Real Estate Forum este o conferință anuală aflată la a șasea ediție, la care vor participa, într-un format specializat de audiență, retaileri, manageri de shopping center-uri, agenții de real estate și dezvoltatori imobiliari de proiecte de retail.
Romanian Retail Real Estate Forum 2019 este conceput pe un format de tip dezbatere, în care participanții au posibilitatea de a interacționa cu vorbitorii din panel pe baza temelor prezentate în agendă.
Speakerii forumului sunt:
Mihaela PETRUESCU – Head of Property & Facility Management, Cushman & Wakefield Echinox
Maria CRACIUN – Veranda Center Manager
Mihai DINU – General Manager, Colosseum
Roxana DUDAU – Associated Partner, Noerr
Ana-Maria RĂDULESCU – Key Account Manager Signify CEE
Costin BLIDEANU – Head of Leasing, AFI Europe
Frederic LAMY – CEO, Leroy Merlin
Alex BRATU – CEO, JYSK România & Bulgaria
Edvin ABDULACHIM – Director Comercial, Altex
Nicolae MOGOS – COO, SMYK All for Kids
Daniel FURNICĂ – Professional Services Director, Red Point Software Solutions
Șerban RADU – Cofondator Cărturești
Philippe BESADOUX – CEO, Montecristo Retail
Dan FIROIU – Technical & Investment Manager, CCC Romania
Bogdan PATRAȘCU – Leasing Specialist, CCC Romania
Partenerii ediției 2019 a forumului sunt: Altex, Can & Power, Colosseum, Jysk, Noerr, Renault, SAP, Signify, Tinmar, Veranda, ROFMA – Asociația Română de Facility Management.